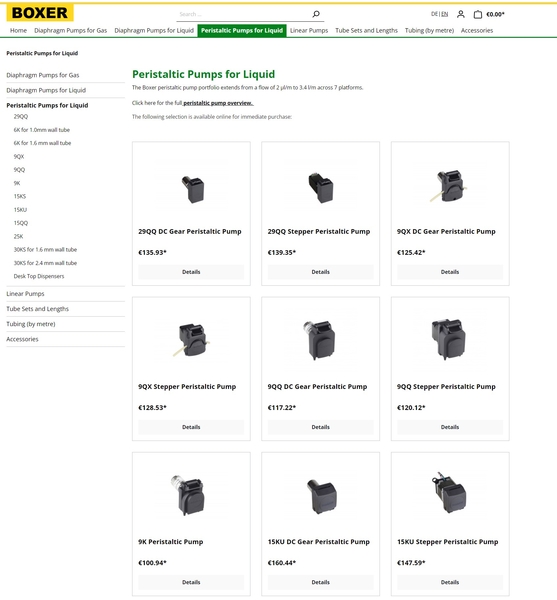 Webshop Upgrade
26.04.2023
Where can you purchase peristaltic pumps online? Where can you find professional support to assist your selection? Boxer is a manufacturer of diaphragm and peristaltic pumps. Our products are used for gas sampling and liquid dosing applications in laboratory, medical and industrial pressure / vacuum applications.
Our website provides full technical information assisting with selection, configuration, engineering drawings and 3D files. Additionally our experienced sales staff are available to answer your questions. Our support is fully backed-up by a comprehensive webshop. Selection is available from direct links from our product pages or via options in the webshop section. With multiple pump configurations, accessories and service parts, we have approximately 1000 items available. Shipping is generally next day or within 2 days if customs clearance is necessary (for non EU customers with order value over €1000).
Our webshop has now been updated to enhance the user interface. Products are configured via modern selection options. You account history is available to view along with previous orders, invoice copies and tracking links. It is as easy as using Amazon ... with the added benefit of being able to talk to us via the telephone or prompt email support.
We welcome you to join our 2000+ customers who have trusted Boxer with their online pump orders